Nourish The Healthy Dancer®
Designed for The Healthy Dancer® wanting to maintain their sustainable relationship with food and body.
A highly pressured environment increases a dancer's vulnerability to developing a disordered relationship with food. Dancers often turn to food as a coping mechanism to feel in control when so much around auditions, casting, and company promotions feel out of control. In this self-study course, dancers learn how to master body attunement as a tool to navigate emotional eating and alleviate feelings of food guilt.
---
In this self-study course, dancers learn how to navigate emotional eating in a supportive way.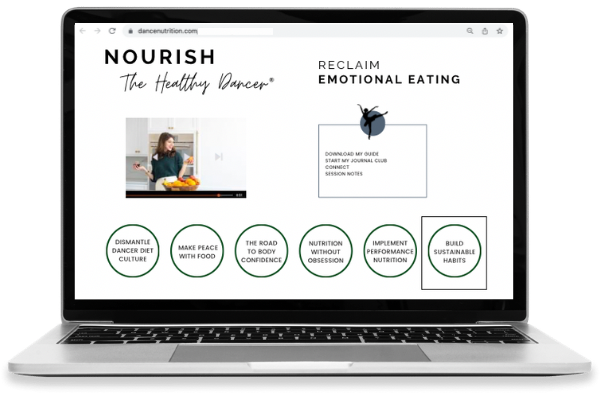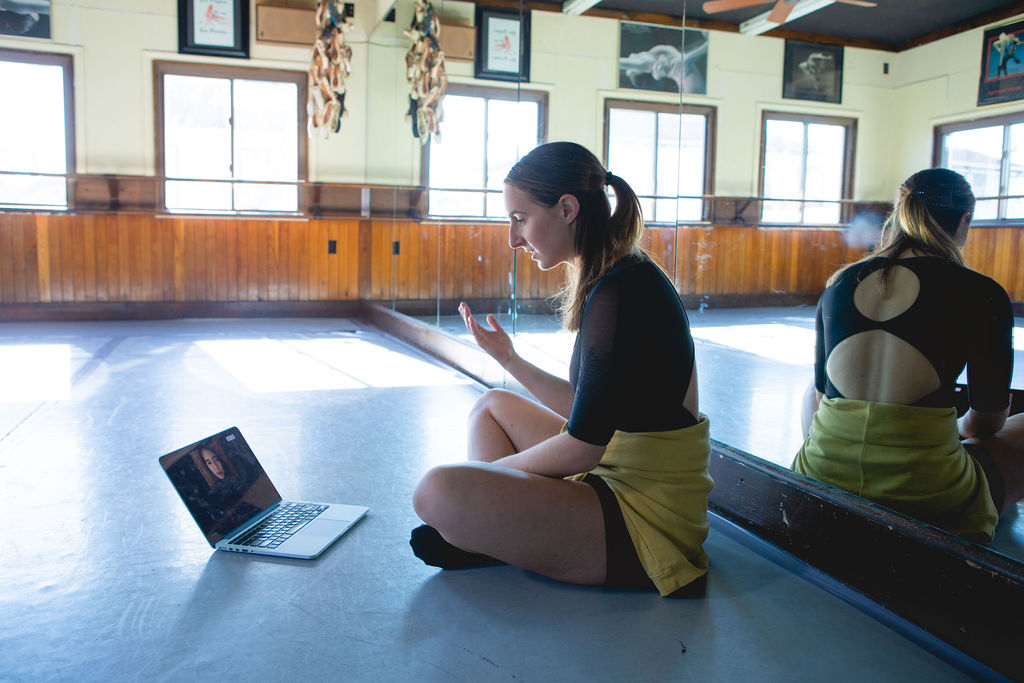 Have you ever thought…
"Why am I always eating when bored?"
"How can I stop eating anytime I'm sad and upset?"
"I cannot keep dessert at home… I have no willpower!"
"Why do I always feel guilty after I eat?"
"How can I actually stop eating when I feel full?"
This course will help you to:
Understand WHAT emotional eating is.
Determine WHY you're turning to (or restricting) food to cope.
Identify the root cause of your emotional eating.
Alleviate potential feelings of food guilt.
Listen and honor your body's intuitive hunger and satiety cues.
The Healthy Dancer® was created by a former professional dancer turned Registered Dietitian Nutritionist with advanced licensure as a Certified Specialist in Sports Nutrition and Certified Counselor of Intuitive Eating. Nourish The Healthy Dancer® is a series of supplemental self-study courses designed to sustain the work of The Healthy Dancer® lifestyle.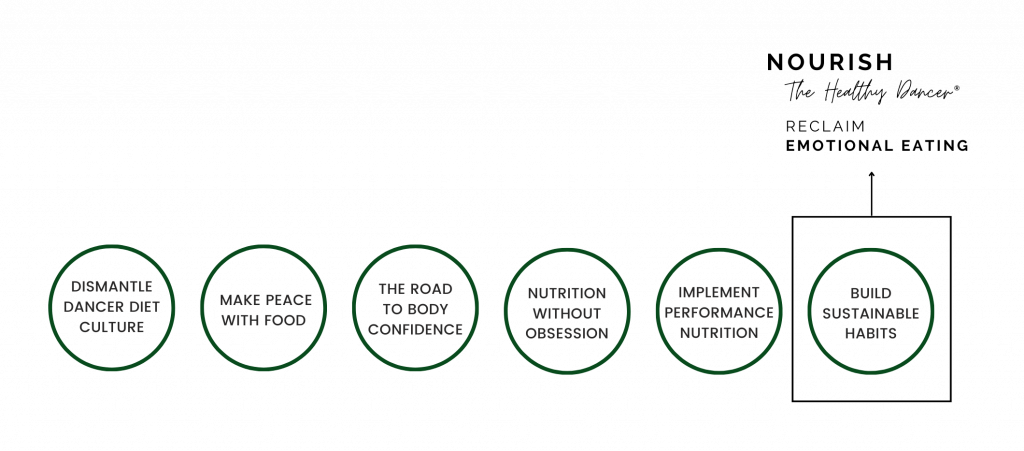 COUNT ME IN!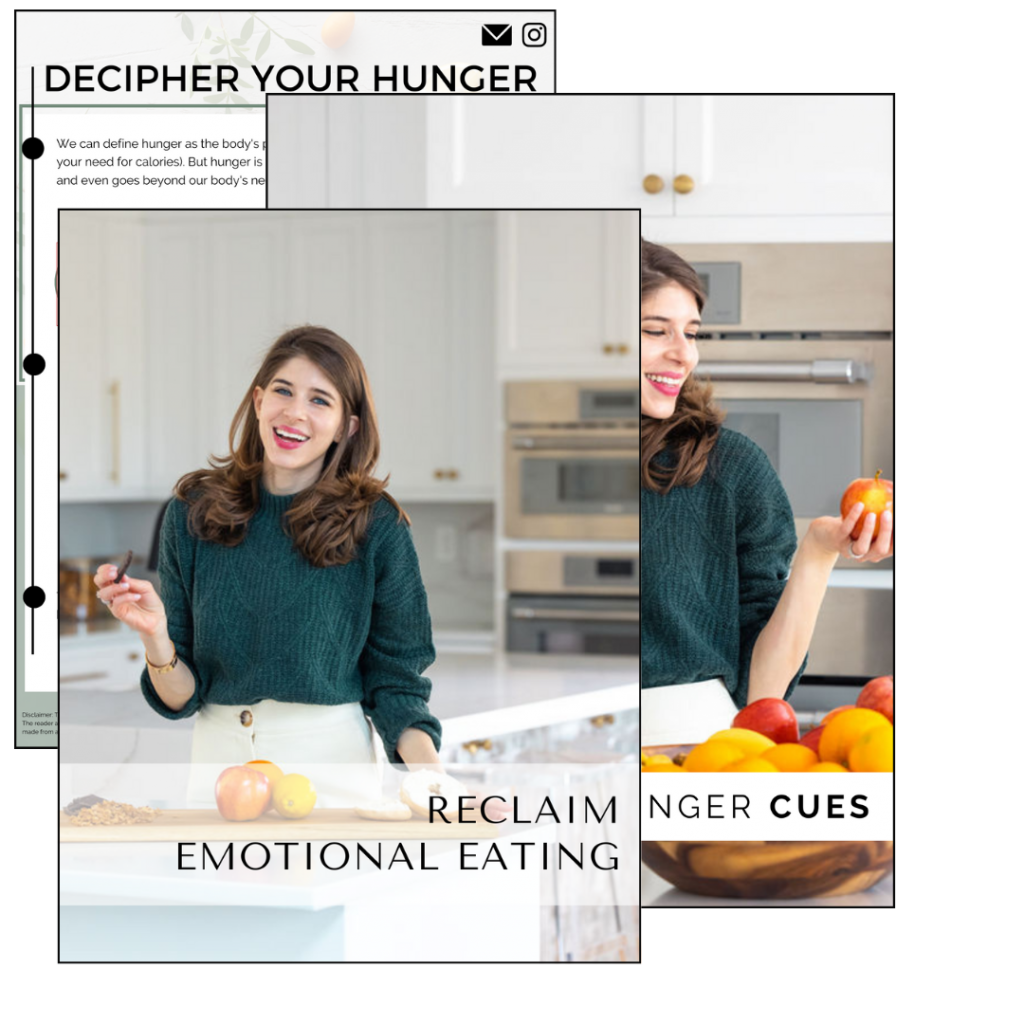 Downloadable Guides help you:
Decipher between the five types of hunger.
Identify and honor satiety cues.
Identify and navigate emotions in a sustainable way.
Build new coping skills for stressful situations.
Dismantle feelings of food guilt.
Utilize food neutrality as a tool for success.
"Over"-Eating Reset
Understand intuitive eating as a tool for dancers.
Learn mindful eating strategies.
COUNT ME IN!
Here's what you get
✓ Self-paced online course with clear instructions.
✓ Over 100 pages of downloadable content guiding you through the course.
✓ Weekly worksheets and activities to hold you accountable.
✓ Actionable content to support your specific needs as a dancer.
✓ Unlimited Email Support.
✓ 10 bonus guides to support your relationship with food.
✓ Online support and access to Rachel for questions along the way.
COUNT ME IN!
Who Is This Program For?
Dance Professionals:
Nutrition for performance is key to a sustainable career. Use The Healthy Dancer as a guide toward your health and wellness goals.
Dance Students:
Whether you're a pre-professional student or a recreational student, use The Healthy Dancer as a companion to your current training program.
Dance Educators:
Broaden your knowledge about dance nutrition and provide your students with the tools needed for a sustainable healthy lifestyle.
COUNT ME IN!
FAQs
Courses
How much does this cost?
The Healthy Dancer® is a membership program and can be billed monthly or annually. For prices,
click here
. One-on-one coaching sessions are an add-on item to the membership with various packages offered. To learn more,
Why should I consider a holistic approach to nutrition for dancers?
A holistic approach to nutrition for dancers is a topic that I've been asked a lot about recently. Your relationship with food doesn't have to be obsessive or compulsive. Dancers can learn how to utilize food as a tool that supports their whole selves: mind, body, and soul. Dancers will discover how to utilize food as a tool to support performance and health. An integrative approach that balances intuitive eating with performance nutrition enables dancers to heal their relationships with both food and body.
Why work with a Registered Dietitian Nutritionist?
Did you know that dancers are three times more likely to struggle with an eating disorder when compared to the general population? Because of the vulnerable nature of dancers to perfectionism, disordered eating, and eating disorders, it's critical that dancers, dance educators, and dance parents rely on sound sources for nutrition-, weight- and lifestyle-related education. Seeking support from a credentialed Registered Dietitian Nutritionist (RD or RDN) or Licensed Dietitian Nutritionist (LD or LDN) is recommended. Dietitians are required to not only complete rigorous training (a minimum of 6 years), but also, dietitians must complete continuing education throughout their professional practice. Such training sets dietitians apart from certified health coaches. In fact, unless one holds licensure as a dietitian, it is outside of their scope of practice to prescribe food and nutrition plans, offer nutrition interventions, or conduct nutrition-focused assessments. To learn more, click here.
What age is this course designed for?
This course is aimed for ages 12 and up. It is recommended, but not required, that students between the ages of 12 and 17 complete the course with a parent or legal guardian.
When does the course start and finish?
The course starts now and ends when you decide. After signing up, you will have access to ALL course materials for a full year. This includes all continuous updates and additions! This is a self-paced course – you decide when you start and when you finish. Weekly modules are paced each week, but if you need a break, no problem! You can come back to your modules when you're ready throughout the year's access!
How long do I have access to the course?
You have unlimited access to this course for a full year after you sign up. Better yet? You can access this course across any and all devices you own!
What format is the course in?
This course offers a mix of video, audio, and instructional content with weekly activities to help you implement all of the concepts.
I've never done an online program before, how does it work?
It's easy! From this page, you will be directed to a secondary site for payment options. Once you submit your payment you'll receive a welcome email detailing how to access the course. From there, you'll have complete access! If you sign up for the Elite program, I'll be in touch within 24-48 hours to let you know how to schedule your one –on–one coaching sessions.
Are refunds available if I'm not happy with the course?
Your satisfaction is guaranteed and I am confident in the information that is delivered. Due to the nature of the course, I cannot guarantee a refund. However, I don't want you to be unhappy. If after 3 days of purchase you're not thrilled, I'd like to further discuss the reason for your concern. You'll have show me proof that you've implemented the first lesson, and explain in-depth why it did not prove useful to you.
I am super busy. How long will this course take each week?
I get it! We are a generation of multitaskers. The purpose of this course is to help you manage your goals even with a busy schedule. If you're utilizing all available resources each week, this should take no more than 30-minutes per week.  Still overwhelmed? Think about this: the more knowledge you have about navigating a supportive lifestyle, the more time you'll have to enjoy and stay focused on your performance.