I'm so happy to meet you here! I have two passions: dance and nutrition. For the past decade, I've been educating others about achieving a healthy lifestyle without #diet rules and without food restrictions. It took me several years to realize that cravings should not be something that we fear. Rather, cravings are an opportunity to give our body what it wants and needs (yes, even if that craving is for an ooey gooey chocolate chip cookie!
So, you're a dancer?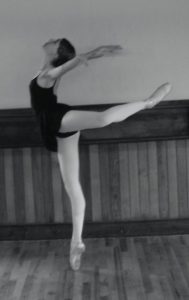 Yep! I started at age 6, but it was at age 16 when I began a professional track. Though I was considered a late start at 16, it took time for my body and musculature to develop the support needed for the demands of Pointe work. The delay, however, didn't hold me back from pursuing various programs throughout New York. I then started college as a dance major and found myself immersed in 7-hour days of classes and rehearsals.
But why did you become a dietitian?
Though I've been dancing since the age of 3, I had a bit of a late start when it came to the professional track (I was a "late bloomer" and didn't develop the proper musculature needed for pointe work until closer to age 16.). When it came to food, I was always into "healthy" eating. Since I was naturally "petite," however, I never thought twice about my diet.
And then I started college as a BFA major in Ballet. With a more demanding dance schedule (up to 7 hours a day), I knew that fueling my body was super important. Innocent food rules, like skipping the dressing on my salad and avoiding the bread at lunch, helped me "control" my weight. I genuinely thought that since I wanted to dance professionally, I needed to restrict my diet.
Soon enough, my perfectionist mindset took over (I'm a classic Type A, friends!) Those food rules became overwhelming habits that I required myself to abide by 24/7.
Point(e) blank: I was obsessed with eating "clean" and there was no room for error. My perfectionist mindset led me from good intentions to obsessive tendencies and unhealthy behaviors. Soon enough, I found myself exhausted, injured, and CONSTANTLY thinking about food (especially the foods I wasn't allowing myself to eat). It got to the point where I no longer enjoyed ballet. In fact, I was ready to quit.
Luckily, when my once-felt joy of ballet vanished, I connected the dots. I realized that my eating behaviors were NOT sustainable for my career. Yes, I loved "eating healthy," but I also loved indulgent food (sweets, fries, and all). I needed to figure out a way to include EVERYTHING in my diet AND continue dancing.
And that's when I shifted my focus.
Determined to find balance, I enrolled in New York University's Department of Nutrition and Dietetics. This gave me the opportunity to learn how to fuel my performance in an educated and sustainable way. Throughout the process, I realized that I needed to help other dancers, just like myself, learn that dieting is NOT a requirement for a professional dance career.
I needed to help other dancers, just like myself, learn that dieting is NOT a requirement for a professional dance career.
Do you still dance?
---
Omg yes! From the time I started a track to my RD (nutrition) license, I was determined to continue dancing. I found myself jumping from studio to library with little rest between. Once I finished my Bachelors, Masters, and licensure work, I joined the team at NYU Langone Medical Center as a full-time acute care clinical dietitian. This made it harder to dance. I desperately tried to keep it up (improvising a ballet barre in my apartment every night was not ideal, but it worked)!
---
So you worked in a hospital, but when did TTP actually start?
While working at the hospital, the idea to create my company, To The Pointe Nutrition, sparked. It was a great 2 years of experience in the clinical world, however, I quickly grew unsatisfied with my career. I decided to take a risk. I left my clinical job and gained certification as a specialist in Sports Nutrition. It didn't take long to grab my Pointe shoes again and finally open the doors to my full time private practice.
Soon enough, I transitioned into my full time private practice. This also got me back into the dance studio. I was finally able to balance my passion for nutrition with my passion for dance.
What's your biggest motivator in life?
It's hard to choose just one! Given my perfectionist-type personality, I've always been non-stop. My mind is constantly thinking about the next fun project I can work on! That said, family is always a motivator. In 2014, I married my best friend and in 2017, we had our son… the love of our lives!
---
Just curious… what's your stance on juice cleanses?
Oy, please no! Your stomach is made of muscle… use it! Why let a juicer do the work for you? Aside from the vitamins and minerals, vegetables are high in fiber. Fiber has major functional benefits to the health of our gut. These functional benefits vanish when a juicer digests the veggies for us.
---
Oh, and… what is your favorite breakfast?
I usually alternate between two favorites, one being: 2 slices of Ezekiel bread, toasted and topped with Siggi's 4% Greek yogurt (strawberry & rhubarb) with a chopped almonds, flaxseeds, and a drizzle of honey. It's super easy, balanced, and keeps me satiated throughout a morning of getting my son to school, meeting virtually with clients, and taking a pilates class! My other favorite is a nutrient-packed smoothie!
---
Quick: what's your mantra?
I help my clients find balance using a whole food-based approach where restrictions don't exist and rather, all foods fit! It's time to love food, love your body, and love your life!