I'm so happy to meet you here! I have two passions: dance and nutrition. For over a decade, I've been educating dancers about how to achieve a healthy lifestyle without diet rules or food restrictions. It's my mission to redefine what it means to be The Healthy Dancer®.
---
So, you're a dancer?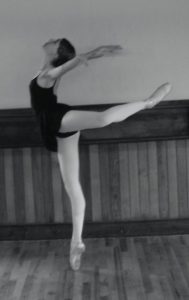 Yep! I started at age 6, but it was at age 16 when I began a professional track. I was considered a late start at 16 (it took time for my body and musculature to develop the support needed for the demands of Pointe work). The delay, however, didn't hold me back from pursuing various opportunities in my hometown of New York.
But why did you become a dietitian?
Throughout my early adulthood, I was always into "healthy" eating. It wasn't until I started college as a BFA major in Ballet when I made the connection between my food choices and my performance. With a more demanding dance schedule, I knew that fueling my body was super important. What I didn't know at the time though was that my definition of "health" wasn't actually "healthy."
Innocent food rules, like skipping the dressing on my salad and avoiding the bread at lunch, helped me stay in "control." I genuinely thought that to dance professionally, I needed to restrict the foods that I once loved. Soon enough, my perfectionism took over (I'm a classic Type A!) and those food rules became overwhelming habits that I required myself to follow 24/7.
My intent to "eat healthfully" was from a place of wanting to better my performance. Honestly, I cannot blame myself for thinking this! Dieting behaviors are not only normalized in dance but they're also glorified. I was convinced that my "healthy habits" were truly the key to a successful dance career.
Soon enough, however, those "healthy" habits became unhealthy obsessions.
Point(e) blank: I was obsessed with eating "clean" and there was no room for error. My perfectionism led me from good intentions to obsessive tendencies. I found myself exhausted, injured, and CONSTANTLY thinking about food (especially the foods I wasn't allowing myself to eat). It got to the point where I no longer enjoyed ballet. In fact, I was ready to quit.
Luckily, when my once-felt joy of ballet vanished, I connected the dots. I realized that my eating behaviors were NOT sustainable. Yes, I loved "eating healthy," but I also loved enjoying fun foods like sweets, dessert, and fries (ya know… the ones our society often deems as being "unhealthy.") I needed to figure out a way to enjoy ALL foods without feeling guilty, shameful, or stressed.
I needed to shift my focus.
Determined to find balance, I enrolled in New York University's Department of Clinical Nutrition and Dietetics. This gave me the opportunity to learn how to fuel my performance in an educated and evidence-based way. Throughout the process, I realized that I needed to help other dancers, just like myself, learn that dieting is NOT a prerequisite for a professional dance career.
I needed to help other dancers, just like myself, learn that dieting is NOT a prerequisite for a professional dance career.
---
Do you still dance?
---
Yes! From the time I started a track to my RD (Registered Dietitian Nutritionist) license, I was determined to continue dancing. Once I finished my Bachelor's, Master's, and licensure work, I joined the team at NYU Langone Medical Center as a full-time acute care clinical dietitian. This made it harder to dance. I desperately tried to keep it up (improvising a ballet barre in my apartment every night was not ideal, but it worked)!
---
So you worked in a hospital, but when did TTP actually start?
While working at the hospital, the idea to create my company, To The Pointe Nutrition, sparked. It was a great 2 years of experience in the clinical world, however, I quickly grew unsatisfied with my career. I decided to take a risk. I left my clinical job and gained certification as a specialist in Sports Nutrition. It didn't take long to grab my Pointe shoes again and finally open the doors to my full-time private practice.
Soon enough, I transitioned into my full time private practice. This also got me back into the dance studio. I was finally able to balance my passion for nutrition with my passion for dance.
---
Why a dietitian? What can you do for dancers?
With an abundance of information flooding our media feeds, it's difficult to decipher truth from trends in regards to dance nutrition, dancer health, and dancer wellness. Dancers are not just artists, they're also athletes. Therefore, trusting credentialed practitioners, such as Registered Dietitian Nutritionists, helps to maximize a dancer's strength and endurance in a way that promotes sustainable habits without the risk for injury and burnout.
The titles of "nutrition expert" and "nutritionist" are not regulated. Therefore, anyone can refer to themselves as a nutrition expert or nutritionist! Since dancers are especially vulnerable to the development of disordered eating and eating disorders, it's essential that they seek qualified advice for appropriate nutrition intervention and prevention.
Registered Dietitian Nutritionist (RD or RDN) or Licensed Dietitian Nutritionist (LD or LDN) can support dancers needing food and meal guidance, nutrition assessment, nutrition education, performance optimization, body image healing, and lifestyle sustainability. To help dancers rebuild their relationships with food, dietitian nutritionists are trained in listening to your story, making space for your narrative, exploring your readiness for change, and helping you identify specific goals in order to tailor evidence-based approaches for your personal journey.
To learn more about why dancers benefit from working with licensed professionals, read this article.
---
What's your biggest motivator in life?
It's hard to choose just one! Given my perfectionist-type personality, I've always been non-stop. My mind is constantly thinking about the next fun project I can work on! That said, family is always a motivator. In 2014, I married my best friend and in 2017, we had our son and in 2020 we had our daughter!
---
What is your favorite breakfast?
I usually alternate between two favorites, one being: 2 slices of sourdough toasted and topped with smashed avocado, eggs, and hemp seeds. A yogurt parfait is another favorite. I layer yogurt with granola, chopped almonds, flax, and a drizzle of honey. It's super easy, balanced, and keeps me satiated throughout the morning when I'm getting the kids to school, meeting virtually with clients, and hopping on my pilates reformer.
---
How can I work with you as my nutritionist?
I might be a board-certified nutritionist, but YOU are the true expert in your body's needs.
As a former professional dancer, I get it. We balance the high demands of our art with industry pressures that promote unrealistic ideals around food, body, and work ethic. Becoming The Healthy Dancer® means SO MUCH MORE than the foods on your plate. Together, we'll dismantle the destructive mindset surrounding "good" vs "bad" nutrition. Alongside this, you'll discover how to support your goals in a way that feels good physically and mentally.
The Healthy Dancer® Basic Program is a self-study course that includes one private coaching call and unlimited email support. The Healthy Dancer® Elite Program includes a personalized plan, bi-monthly coaching calls, and unlimited email support. NEW group coaching is also available bi-annually through The Healthy Dancer® Summer Intensive and The Healthy Dancer® Winter Intensive. These offer an ongoing community, professional masterclasses, workshops, and more.
The Healthy Dancer® community offers lots of free resources that can help dancers build sustainable habits. Start your journey here to determine where you stand in your relationship with food. You'll receive a free workbook to start the work. From there, consider joining our free 3-day crash course that dives into your nutrient needs as an artistic athlete. You can also find free downloadable guides covering topics like Dancing In College, Emotional Eating, Injury Recovery, and Healthy Snacking.
I help my clients find balance using a whole-food-based approach where restrictions don't exist and rather, all foods fit! It's time to love food, love your body, and love your life!